About the Slice of Life Series
Slice of Life is a collectable series of numbered paintings.

They are 2.5 x 8 inches, oil on wood panel. See the Slice of Life paintings available.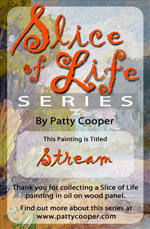 Each painting is signed and numbered with a custom printed label attached to the back and is ready to hang. Use the smallest of nails or even a sewing pin to hang it. The best part, it fits practically anywhere!



The cost of one painting is $60

(add $6 for shipping)



My paintings are for sale through the Nueva Street Gallery.

If you see one (or two or three) you must have, call the gallery at 210-229-9810 or visit Online at www.nuevastreetgallery.com. You can pay via PayPal, credit card, check or money order. We will be happy to ship your Slice of Life to you.



The idea for the series

came from several different converging thoughts. First, I work in the Nueva Street Gallery and often hear people say, "I would love to buy a new painting but I don't have anymore wall space." Second, there is a daily painting movement that has adopted the very small formats of 4 x 4 to 6 x 6 inches. The size is small enough to accomplish everyday. Third, I follow several artists who have done various series of paintings and I really liked that idea. So, voila - the Slice of Life series was born. It has become a (tiny) playground where the painter in me can be expressive with no limits (except for size!) and just play.